Things have slowed down a bit with the
software
, so I have been able to feel a bit of creativity creeping back into my life.
I've also found a way to acquire more artistic fuel (beads & materials) without spending money...trade! I think this is a terrific way for fellow artists to support one another and to spread the creativity around.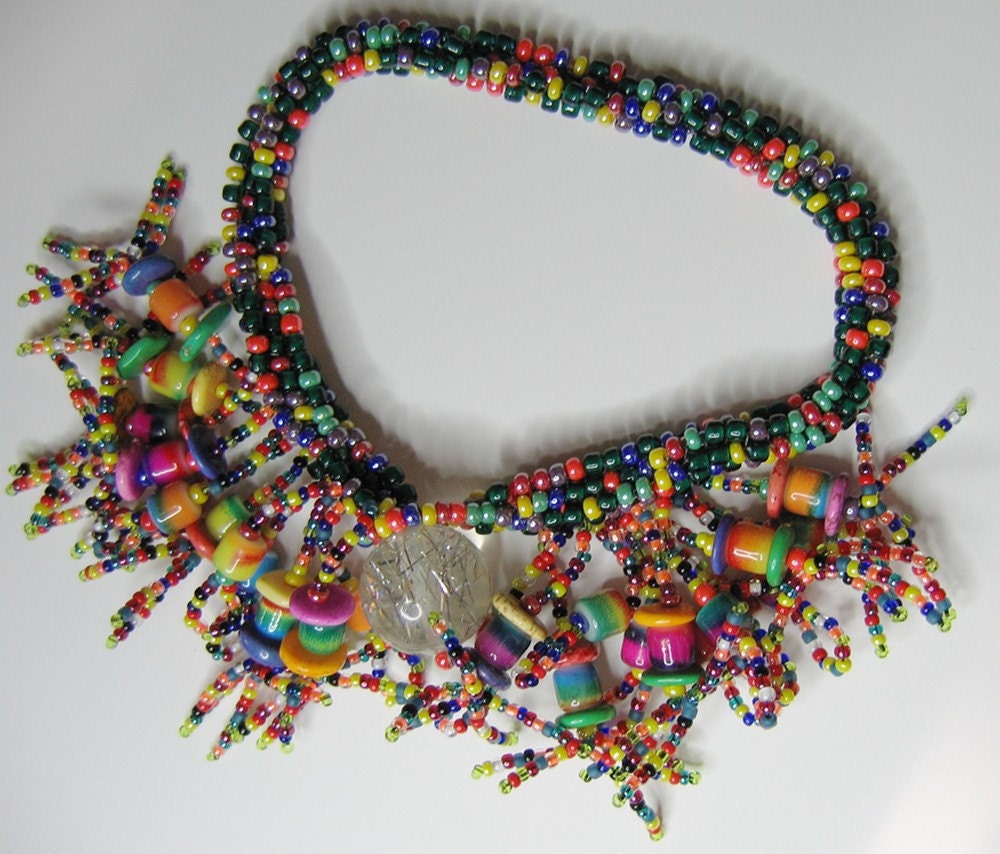 Original bracelet
Several weeks ago, at a local farmer's market,
Ruth Wood
saw me wearing my new
tutti-frooti
bracelet. (Tootie-frutti? There are a dozen ways to spell this, all of which my spell-checker rejects.) Ruth does wonderful fused glass cabochon work, and after I let her try on the bracelet I happened to be wearing, we worked out a deal to trade a similar bracelet made to fit her for some of her cabs.
Ruth's bracelet
This is her bracelet, to be delivered this Sunday at the market. I'll post some pictures of the cabs next week. I also made some earrings to go with, so we'll see what happens with them!
We each worked out what we would sell our pieces for, retail. We agreed that trading retail values was fair, as this included the labor (and profit) as well as materials. Tiny bits of glass for fused cabs cost nearly nothing, its the work and expertise that make them valuable. The same, or nearly the same goes for the beads. Material costs are small, but those hours creating fringe add up!
Earrings to go with
Of course, the IRS wants you to declare the value of traded goods and pay taxes on them, unless you have a resale license. Both Ruth & I do, so consult with your tax expert on your own situation. Don't Mess the IRS is our policy around here. Those people are scarier than Homeland Security!
In other beady news, I built a peyote bracelet with some 4mm cube beads in a very elusive color. I don't know exactly what to call it. The description on the tube was "jade" but it's got a lot of bronze, yellow, and opalescent notes in it. These pictures actually represent it pretty well. What would you call it?
"Jade?"
The edge beads are hematite rounds, 4mm, which fit exactly with the cubes. They give the whole bracelet a solid heft that the light cubes do not. I like it, actually. I think when I list it on
Etsy
, I'll do some research and tout the spiritual values of hematite.
What color is it, really?
The newest issue of
Bead & Button magazine
came out with a project done in spiral herringbone (as well as an ad for, ahem,
BeadEnCounter
software). It's basically a herringbone rope done with varying sizes of beads, from 15/0 to 8/0 and drop beads at the outer edge. Like peyote spirals, these varying sizes of beads make the rope bend as you work.
Spiral herringbone
Well, the project is supposed to make a long spiral that is then interconnected with some strung segments. Very cute, but once I got the spiral going, I realized that it would be very easy to turn into a circle. And I didn't have the patience at that moment to continue on. So here are the earrings I created with my test pieces. Very very easy to do, and quick to work up. I think the second one only took me half an hour or so.
At some point I may return to the technique and do the actual spiral. Herringbone isn't my favorite but I'm getting to know it better.
Right now, though, I'm scheming to find other artists to trade with. Who will love my work enough to trade with me?